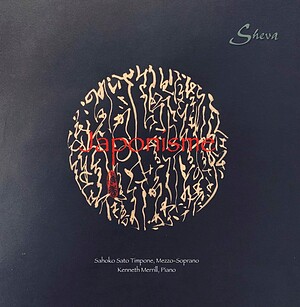 Songs of Japonisme
Sheva Collection SH273
Released from Sheva Collection in 2021!
Digital Streaming on January 7, 2022!
Songs of Japonisme
Early 20th Century Art Songs from Japan and the West
Sahoko Sato Timpone, mezzo-soprano
Kenneth Merrill, piano
Click here for CD Booklet
Recording Information and Credits
Date recorded: May 21-24, 2018
Place recorded: Concert Hall, The Performing Arts Center at Purchase College, Purchase, NY
Performers:
Sahoko Sato Timpone, Mezzo-Soprano
Kenneth Merril, Piano
Andy Biskin, Clarinet
Recording Producer: Nathan Brandwein
Recording Engineer: Silas Brown
Sound Editor: John Bowen
Funded by:
Florida State University First Year Assistant Professorship Award
Florida State University College of Music Lucille P. and Elbert B. Shelfer Professorship Fund
Cover Art: Masako Inkyo "十六夜の月- Moon on the 16th Night of Lunar Month"
Photo: Ron Rinaldi
Research Advisor and Forward: Jun-ichi Sato
Liner Notes Editors: Anne Siviglia and Rebecca Cypess
Czech Diction Coach: Pavlina Horáková
Japanese Traditional Recitation Coach: Sumie Kaneko
Special Thanks
This recording was made possible through the generous support and guidance from the following individuals:
David Frost, Rebecca Davis, Ryoko Takei, Patricia Flowers, Valerie Trujillo, Michelle Pohto, Ron Raines, Ira Siff, Chantal Balestri, Dan Sedgwick, Abra Bush, Yoko Igarashi, Hiro Honshuku, Edward Kamens, Joseph Manning, Naomi Manning, Eijiro Kai, Holly Decorzent, Ayako Nakura, Wakako Kawasaki, Dean Timpone, Kunitaka Sato, and Rosemarie Timpone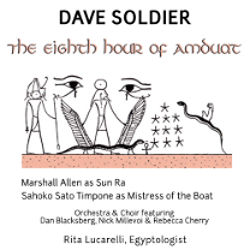 Dave Soldier "The Eight Hour of Amduat"
Mulatta Records MUL035
This opera for mezzosoprano, choir, improvising soloists, orchestra and electronics is adapted from the earliest surviving illustrated book and sound score, ?The Book of the Amduat?, painted on walls in the tombs of the Valley of the Kings and many papyri. I use the version in Tuthmose III?s tomb, who ruled Egypt from 1485-1431 BC. He is widely thought to be the Pharaoh of Exodus: if it wasn?t him, it was a close relative. He co-ruled at first with the female Pharaoh, Hatsepsut, and was great grandfather to Akhenaten. He built the obelisks known as Cleopatra?s Needle, one of which is on the Thames in London, and the other is near East 81st street in Central Park in New York City.
Each morning, Sun Ra emerges from a hole in the east and sails on a river through our sky. After he descends he continue from west to east on the river through the underworld, the Amudat, to reemerge in the morning. Each night he dies, but is reborn in the 6th night hour when he unites with Osiris and defeats the serpent, Apep.
The piece takes place during the 8th hour of the night, ?Mistress of deep night?, in the city of the 8th hour, ?Sarcophagus of her gods?. Sun Ra and his companions on the boat are being hauled by a choir on the underworld river. During the hour they are clothed and encounter other gods who live in ten caverns along the shore, along with living knives who defeat their enemies and four sacred rams. By ?earliest sound score?, I mean that the specific sounds from each group of gods in each cavern of the city are described quite literally during the trip.
Each version of the Book of Amduat has the same order of caverns. In Tuthmose III?s tomb, they don?t change simultaneously and the caverns are juxtaposed as in the opera.
I rely on David Warburton?s English translation and Colleen Manassa?s article Sounds of the Netherworld. Translations of the arias to Italian and insights are from the Egyptologist Rita Lucarelli at University of California, Berkley.
The score and libretto can be accessed from www.davesoldier.com.
Tracks
01 Mistress Prayer (feat. Sahoko Sato Timpone)
02 Satisfying Her Lord & Mysterious Caverns (feat. Dan Blacksberg, trombone & Nick Millevoi, guitar)
03 Tower?s Prayer (feat. Choir)
04 Netherworld Cavern (feat. Rebecca Cherry, violin)
05 Tomb of the Gods Cavern (feat. Rebecca Cherry, violin)
06 Barcarolle (feat. Sahoko Sato Timpone & choir)
07 Knives at War (feat. Marshall Allen, EVI & Nick Millevoi, guitar)
08 Mourning & She Who Annihilates the Ignorant Caverns (feat. Marshall Allen, alto sax & Michael Winograd, clarinet)
09 Ra Calls the Rams (feat. Marshall Allen, EVI)
10 Envelopes Her Images & Uniting Darkness Caverns (feat. Marshall Allen, alto sax & EVI)
11 Removing Her Ba-Souls Cavern (feat. Marshall Allen, alto sax)
12 Ra Dances With Rams (feat. Marshall Allen)
13 Great of Torches Cavern (feat. Nick Millevoi, guitar)
14 Dawn March (feat. Choir)
Dave Soldier, composer (2016)
Rita Lucarelli, Egyptology and translation of hieroglyphs to Italian
Sahoko Sato Timpone, Mistress of the Boat, Mezzosoprano
Marshall Allen, Sun Ra, saxophone & electronic valve instrument (EVI)
Rebecca Cherry, Horus of Fragrance, violin
Dan Blacksberg, Wepwawet, trombone
Nick Millevoi, Sia, guitar
Michael Winograd, Nehes, C clarinet
Enrique Rivera-Matos, Hu, tuba
Adam Vidiksis, Conductor
Akhmed Manedov, violin
Juana Pinilla Paez, violin
Olivia Gusmano, viola
Carolina Diazgronados, cello
Dani Bash, harp
Anthony di Bartolo, percussion
Thomas Kolakowski, percussion
Dave Soldier, water bowls, electronics
Choir:
Chace Simmonds-Frith, Natasha Thweatt, Sophie Laruelle, Xiaoming Tian, Eugene Sirotkine, Alicia Waller, Melinda Learnard, Sahoko Sato Timpone,
Engineer, Christopher McDonald,
Assistant engineer, Andrea Fatatis
Choir Recording engineer, Sam Palumbo, Dubway Studios
Mixing, Dave Soldier
Mastering, Sheldon Steiger
Image Source, Wikicommons
Design & Layout, Detta Andreana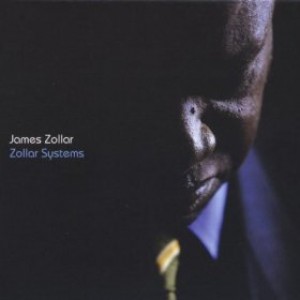 Zollar Systems (Time to say good-bye)
JZAZ Recourds 884501234801
Sahoko is a featured vocalist for Time to say good-bye in this Jazz album.
James Zollar - trumpet;
Stacy Dillard - tenor, soprano saxophones;
Rick Germanson - piano, keyboards;
Andy McCloud - bass;
Sahoko Sato Timpone - vocals;
"...together with Japanese mezzo-soprano, Sahoko Sato—turns the operatic "A Time to Say Goodbye" into a thrilling encounter between the human voice and Zollar's Miley one on trumpet." -RAUL D'GAMA ROSE (All About Jazz)